Details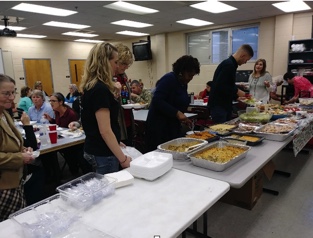 During the months of November and December our sponsors for the Adopt-A-Grade/Staff program have been busy.
Through the Adopt-A-Grade/Staff program Faith Baptist Church and others served lunch to all teachers and staff will all the trimmings.
The Adopt-A-Grade/Staff program Perry Primary (Farm Bureau, 1st Baptist Church and Pleasant Grove Baptist Church) served lunch catered by Mama's Italian Family Restaurant.
Our other sponsors were just as busy with Cornerstone Fellowship delivering birthday cards, candy, chips and soda for all birthday in the month of November and December. Also, in the month of December served the entire staff with a "Baked Potato Bar".
The Farm Bureau delivered birthday cards w/$5.00 gift certificate to all staff with birthdays in November and December. In November they had a drawing for a letter of appreciation and a $25.00 gift certificate.
Details
CEN would like to inform our community that Jim Brannan will be the director for CEN Taylor County. I will focus on more administrative duties and growing CEN.
Jim has 34 years of educational experience as an instructor, principal, director and has a passion to make a difference in the lives and future of kids and families in Taylor County. You may reach him at
(850) 295-1539
I ask that you invite Jim to your church, business or civic group so that he can give an update to CEN and share with you how you can invest in the lives or our kids and families in Taylor County. Together we can make a difference through program and financial support.
Details
As of December 2, 2018, I am officially Pastor of First Baptist Church of Steinhatchee. I am thankful for the opportunity to serve our Lord Jesus Christ, the people of FBCS and the community.
They have agreed and encouraged my continued involvement with CEN and are excited about getting all four CEN programs started at the Steinhatchee School.
CEN is committed to "developing our youth for leadership tomorrow".
On November 14th and 15th I attended the ESSI conference in Orlando, Florida. I was asked to go by Mr. Graham (Program Specialist Bureau of Family & Community Outreach Florida Department of Education) to learn and experience more about the Florida Department of Education Faith-Based Initiative.
It was exciting to hear the Department of Education's openness, focus and encouragement to our faith-based community's involvement in our schools.
Details
Through the Adopt-A-Grade/Staff program Faith Baptist Church gave all teachers and staff gift cards, pens and candy. Teachers were also given supplies for the classes. Faith also sponsored the meal for the Taylor County Football team and coaches on October 18th.
Farm Bureau enclosed a $5.00 gift certificate with the birthday cards given this month and a monthly drawing for a gift certificate.
New Home Baptist Church delivered birthday cards to 3th grades teachers and CEN treated the BBTI teachers and staff to a Halloween treat bags this month.
On November the 8th First Assembly of God and New Home Baptist Church of Perry treated the teachers and staff to a traditional Thanksgiving Dinner with all the trimmings.